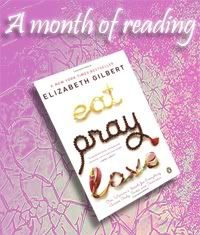 After reading the book for a week what are your first impressions? So much of this part of the book is about Liz's battle of modern vs. traditional, where do you fall on the spectrum? Are you married with children or do you never want to get married, or like most I would guess are you somewhere in between?
Ok. I'm not gonna lie. I'm having a hard time with Liz. I have a problem with the fact that she left her husband. I accept that she had reasons for doing it, and they might even be good reasons, but it bothers me because I don't know what those reasons were. It's hard for me to be ok with seeing a marriage end without the people involved trying to work it out, and because Liz didn't tell me exactly why she left her husband, that's basically all I know about why they got divorced. There. I said it. Hate me if you dare.
(Don't get me wrong though. I'm pretty sure I'd be behind her all the way if she'd fully explained what was wrong with her marriage. Maybe I just resent being out of the loop.)
That being said, I felt for her a lot more when I read the part about her depression. I believe that depression is a real problem that people have, and that in some cases it really can only be fixed with medication. If Liz's journey is going to help her come to terms with her depression and find the inner strength to fight it, then I'm behind her one hundred percent.
To answer the last question, I'm somewhere in the middle of the spectrum (as many of us are). I'm married with no kids, which is one of my own personal battles right now. In the culture I live in (being Mormon in Utah), there are a lot of strong opinions about having children right away (read: pro). Besides the peer pressure that naturally comes from most of our married friends having kids, I sometimes feel like I'm being judged by the people around me for choosing to work and put my husband through law school instead of quitting my job and getting started on our 2.5 kids right away (except, hey, we're Mormons, so it's more like 5 kids. But I digress). So in that sense, yes. I know about having society define you and dictating what you "should" be doing with your life.
See the other responses over at
The Book Vixen
!