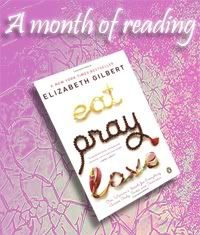 Finish Indonesia and discuss general feelings on the book. How did it affect you? I read this book at a time in my life when I was really struggling and it had a profound effect on me so I am curious to see what others thought of something so deeply personal.
Will you go see the movie? Will you read Committed which is Gilbert's follow up to Eat Pray Love?
What are some of your favorite quotes from the book?
Ok. So. The book.
The love section was... I'm not sure. I'm gonna call it my least favorite section. I don't know what it was about it, but it just... didn't do it for me. And I'm pretty ok with that.
I was sad about the part where her friend was trying to con her for more money; I mean, Liz somehow managed to get this huge donation from all of her friends, so that this sweet lady could finally have a place to live, and then she tries to swindle her and get more! That was pretty awful to me. I like the way she handled it, though. That it meant enough to her to maintain that friendship and try to still be on good terms with her. So... way to be, Liz.
As a whole, I think I got the most out of the Pray section. It's kind of inspired me to try to delve a little further into my own spirituality. I was raised religious, and I've been religious all my life, but I feel like I'm getting complacent in what I do, and that I need to work more to be closer to my Heavenly Father. Liz's spiritual growth makes me want to find that in my own life, and I think I'm going to start figuring out what I can do that will help fulfill those needs in my own life.
I'm actually pretty excited about the movie now. For one thing, now that I've read the book,
the trailer
makes a lot more sense. At first, I wasn't too stoked about it, seeing as how most Hollywood movies are really crappy these days. But after I'd finished the book, I watched the trailer again and remembered how Julia Roberts is actually a fantastic actress. So I think now I'm ready to watch it. :)
I may or may not read the follow-up book, Committed; I definitely want to pick it up and see what it's all about, though.
As far as my favorite quotes, most of them were from the Pray section and can be found in
this
post.
Thanks, guys, for participating in this book club! It's been a lot of fun to be a part of. :) In closing, here's the video that began my experience with this book.